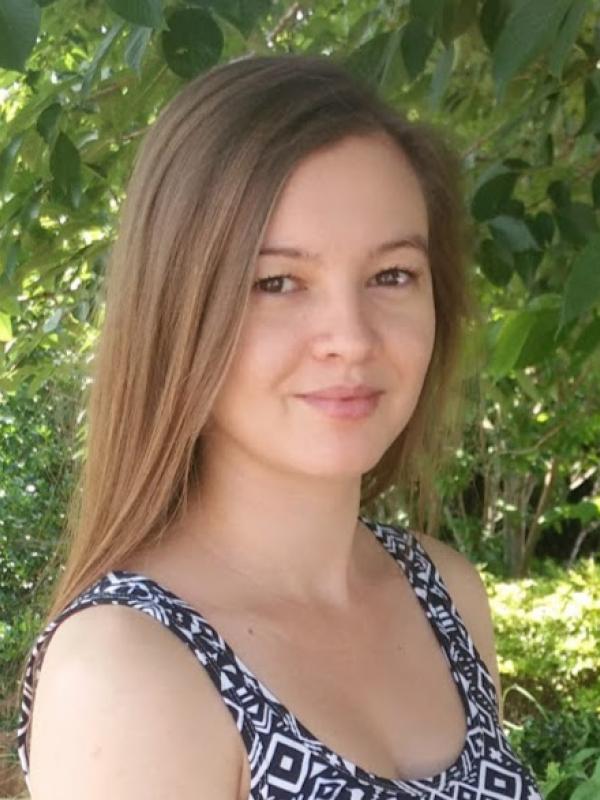 Ekaterina Andrianova
Postdoctoral Scholar
Room 500B, Aronoff Laboratory
318 W 12th Ave,
Columbus, OH 43210
Areas of Expertise
Computational Genomics
Molecular Biology
Education
B.S./M.S. in Biotechnology, Samara State Technical University, Russia, 2009
Ph.D., Center for Biotechnology, Russian Academy of Sciences, 2012
Publications: 
Huang Z, Wang YH, Zhu HZ, Andrianova EP, Jiang CY, Li D, Ma L, Feng J, Liu ZP, Xiang H, Zhulin IB, Liu SJ. 2019. Cross talk between chemosensory pathways that modulate chemotaxis and biofilm formation. mBio 10: e02876-18.
Dziuba M, Koziaeva V, Grouzdev D, Burganskaya E, Baslerov R, Kolganova T, Chernyadyev A, Osipov G, Andrianova E, Gorlenko V, Kuznetsov B. 2016. Magnetospirillum caucasicum sp. nov., Magnetospirillum marisnigri sp. nov. and Magnetospirillum moscoviense sp. nov., novel freshwater magnetotactic bacteria isolated from three distinct geographical points of European Russia. Int. J. Syst. Evol. Microbiol. 66: 2069-2077.
Andrianova EP, Krementsugskaia SR, Lugovskaia NN, Mayorova TK, Borisov VV, Eldarov MA, Ravin NV, Folimonov AS, Skryabin KG. 2011. Foot and mouth disease virus polyepitope protein produced in bacteria and plants induces protective immunity in guinea pigs. Biochemistry (Mosc.) 76:339-346.