Ph.D. Students

Pranav S.J.B. Rana | Research Interest: Interactions between neutrophils and Staphylococcus aureus biofilms
I am originally from Kathmandu, the capital city of Nepal. My interest in microbes started growing in high school as I began to understand their contributions to the world. I moved to the United States to earn a B.Sc. in microbiology at the University of Idaho. As a freshman, I had the opportunity to work with Dr. Patricia Hartzell who studied phase variation, a phenomenon where a bacterial sub-population undergoes a change in gene expression. For the next two and a half years, I was studying the effects of myxovirescin, an antibiotic, produced by Myxococcus xanthus on phase variation.
As I started developing an interest in pathogens, I joined the lab of Dr. Elizabeth Fortunato in my senior year to study the mechanisms responsible for the development of birth defects due to human cytomegalovirus congenital infection. These experiences solidified my interest in conducting research on host-pathogen interactions, which led me to pursue a Ph.D. in microbiology. I joined the lab of Dr. Daniel Wozniak in 2019 to study the interactions of neutrophils and Staphylococcus aureus biofilms. My current project aims at understanding the alterations in neutrophil responses caused by biofilms in chronic wounds leading to persistent infections.
---

Andrew Schwieters | Research Interest: Detection and response of Salmonella to the presence of quorum sensing by other bacterial species
I am originally from the Twin Cities region of Minnesota. I started my undergraduate degree at the University of Minnesota, Morris studying psychology before becoming interested in Biology. I graduated with a Bachelor of Arts in Biology and a minor in Chemistry. After graduating, I worked in food safety and medical device microbiology through commercial labs before joining OSU.
I joined the lab of Dr. Brian Ahmer in 2018 to study quorum sensing in Salmonella. Quorum sensing is a strategy used by bacteria to sense their own population density by producing and secreting small molecules. Salmonella is unusual in this regard because it senses other bacterial species producing small molecules rather than itself. My research is focused on identifying where Salmonella senses other bacteria and how Salmonella changes its behavior in response to the presence of these small molecules.
The Department of Microbiology at OSU is a welcoming community that encourages the growth and development of its graduate students. There are many different fields of research being explored within our department, which provides excellent opportunities for collaboration and learning.
---
Marissa Berry | Research Interest: Diversity and evolution of bacterial chemosensory systems
I am from Connecticut and received my B.S. from Saint Michael's College in Vermont in 2019. I majored in Biochemistry with minors in Math and Religious Studies. While getting my undergraduate degree, I had the opportunity to participate in research on the math behind selfassembling DNA structures. The goal was to optimize the path for the DNA to take in order for other researchers to design DNA sequences to most efficiently build structures. Through this experience I learned how much I enjoyed the research process, and it solidified my desire to get my PhD. I was drawn to Ohio State's program because of the diversity of research. Upon coming to Ohio State after rotating in a diverse selection of labs, I joined Dr. Jouline's lab researching signal transduction with computational methods in 2020. My focus is on bacterial chemosensory systems that control bacterial chemotaxis and other cellular functions. My project looks at the diversity and evolution of these systems.
---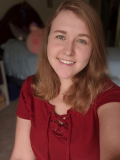 Makayla Manes | Research Interest: Discovery and elucidation of antimicrobials and other secondary metabolites 
I am originally from northeast Ohio, in the small town of Farmdale. I completed my undergraduate degree at Bowling Green State University in May of 2020, where I received a B.S. in Microbiology with a minor in Creative Writing. During my time as an undergraduate, I worked as a research assistant studying the cyanobacterial harmful algal blooms and their related pathogens in Lake Erie and Sandusky Bay.  
I joined the Ohio State Microbiology Dept. in August 2020, and in March 2021, I joined Dr. Yousef's lab to research antimicrobials and other secondary metabolites, specifically in Bacillus velezensis strains. By identifying new antimicrobials, our lab hopes to help combat the effects of antimicrobial resistance in food preservation. My work in his lab is also allowing me to build a professional relationship with our industry collaborators, which will aid me in finding a job following the completion of my PhD.  
---

Christian Quiles | Research Interest: Lipidomics of various organisms belonging to the human gut microbiome
I am from Isabela, Puerto Rico. I obtained my B.S. at the University of Puerto Rico Aguadilla, where I majored in Biology with a biomedical emphasis. While getting my undergraduate degree, I had the opportunity to work on the isolation and characterization of MRSA from athletic facilities, which sparked a great interest in me to focus my studies in Microbiology. In 2018, I began my master's degree in Microbiology at the University of Puerto Rico Mayagüez campus, where my research was focused on isolating Actinobacteria associated with a tropical termite to extract and characterize their secondary metabolites for their potential use against pathogenic bacteria and fungi. During my research, I developed a fascination for symbiosis and bacterial metabolism, motivating me to pursue a Ph.D.
Once I finished my master's degree, I applied and got accepted to The Ohio State University in 2021. I chose OSU because it has a faculty with a wide variety of research interests that are also aligned with mine. In the fall of 2022, I decided to join Dr. Patrick Bradley's lab in which I will be focusing on studying the lipidomics of various organisms belonging to the human gut microbiome. 
---
Master Students

Rokaiya Shatadru | Research Interest: Linking bacteriophages and their hosts
I am from Bangladesh, and I have completed my BS and MS in Microbiology from the University of Dhaka, Bangladesh. My mother is a doctor and she used to help me with biology in high school, explaining things with more practical examples. My amazement with biology began with how white blood cells defend the body from infection and that amazement only continued to increase as I started my undergraduate in Microbiology. For my undergraduate research project, I isolated and characterized multidrug resistant Salmonella strains from poultry samples. My thesis for my master's degree was analyzing the whole genome of a multidrug and heavy metal resistant Pseudomonas aeruginosa isolated from a burn wound. While I was studying for my master's degree the COVID-19 pandemic took the world by storm. At the start of the pandemic, I took part in a voluntary effort and performed RT-PCR for COVID-19 detection as well as training others.
In the fall of 2021, I joined the lab of Dr. Matthew Sullivan as an MS student in The Ohio State University. The aim of my master's thesis is to develop a method to link bacteriophages to their hosts from environmental samples using proximity ligation.
---

Joshua Groves | Research Interest: : S-adenosyl methionine by-product utilization in extraintestinal pathogenic Escherichia coli
I am originally from Tennessee and received my B.S. from Tennessee Technological University in 2018. As an undergraduate, I majored in biochemistry while working as a medical scribe in a local emergency department. It was while working in the emergency department that I was introduced to the world of clinical microbiology and microbes. After graduation, I moved to Columbus to work in an oncology tissue biobank at Nationwide Children's Hospital. After working at the biobank for some time, I decided to pursue a new challenge and explore my interest in microbiology.
In the fall of 2021, I joined the North Lab at Ohio State University as an M.S. student. In the lab, I investigate a by-product utilization pathway found in many pathogenic bacteria, including Escherichia coli. The master's program was an excellent opportunity to enter the field of microbiology; and at Ohio State I have been given the opportunity to explore the many facets and concepts of the field. After completing my master's thesis, I hope to continue in the field of microbiology and earn a doctorate degree.