August 5, 2022
Assistant Professor Position in Microbiome Science in the Department of Microbiology!
Image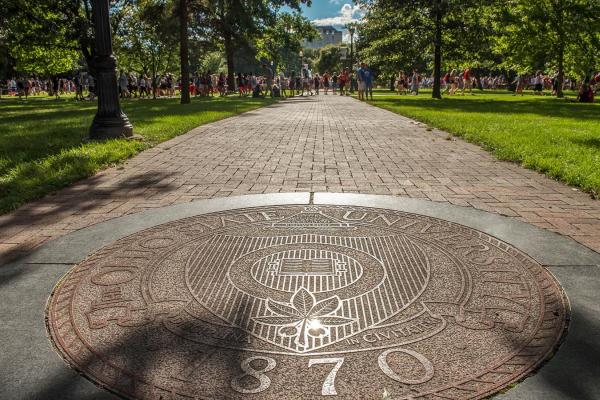 Description
Description:
The College of Arts & Sciences, Department of Microbiology at The Ohio State University invite applications for a tenure-track position at the Assistant Professor level in the area of Microbiome Science, with an emphasis on understanding microbial community metabolism in the context of nutrition, disease, ecosystem function, and/or small molecule signaling. The successful candidate will establish an independent research program relevant to a growing 100+ faculty microbiome science community and contribute to teaching in the Department of Microbiology. The new faculty member will join an interdisciplinary community on the main campus in Columbus, Ohio, which includes a network between the Infectious Disease Institute, the Center of Microbiome Science, and the EMERGE Biology Integration Institute, and will have the option to be located in the new Interdisciplinary Research Facility that is designed to maximize cross-disciplinary interactions in Ohio State's new Innovation District. Further, our partners - Ohio State University Wexner Medical Center, Nationwide Children's Hospital, and the Ohio Supercomputer Center - offer many opportunities for collaboration, cost-effective computation, and advancement of research programs.
Qualifications:
A PhD in microbiology, computational biology, or a related field of expertise in microbiome science is required. Postdoctoral experience with a demonstrated record of productivity is required. Outstanding applicants in all areas of microbiome science will be considered, but areas of special interest include multi-omics approaches for understanding microbial community metabolism. Appointment is contingent on the university's verification of credentials and other information required by law and/or university policies, including but not limited to a criminal background check.
About Columbus:
The Ohio State University campus is located in Columbus, the capital city of Ohio. Columbus is the Midwest's fastest-growing city and the nation's 14th largest city. Columbus offers a diverse array of welcoming neighborhoods and a vibrant arts and culture scene. Additional information about all that the Columbus area has to offer is available at https://visit.osu.edu/experience.
Application Instructions:
Apply to Academic Jobs Online at: https://academicjobsonline.org/ajo/jobs/22075. A complete application consists of a cover letter, curriculum vitae, three letters of reference, and statements on research, teaching, and diversity. The diversity statement should articulate your demonstrated commitments to contribute to diversity, equity, and inclusion through research, teaching, mentoring, and/or outreach and engagement. Review of applications will begin on September 1, 2022, and will continue until the position is filled. Anticipated starting date is August 15, 2023. Inquiries may be directed to Matthew Sullivan, Search Committee Chair at sullivan.948@osu.edu
The Ohio State University is committed to establishing a culturally and intellectually diverse environment, encouraging all members of our learning community to reach their full potential. Over the next few years, The Ohio State University is committed to welcoming 350 new faculty hires, many of which will contribute to growing our role as a premier research university equipped to answer and interrogate the critical domestic and global societal challenges that deter equality and inclusion. We are responsive to dual-career families and strongly promote work-life balance to support our community members through a suite of institutionalized policies. The university is a member of the Ohio/Western Pennsylvania/West Virginia Higher Education Recruitment Consortium (HERC).
The Ohio State University is an equal opportunity employer. All qualified applicants will receive consideration for employment without regard to race, color, religion, sex, sexual orientation or identity, national origin, disability status, or protected veteran status.
---