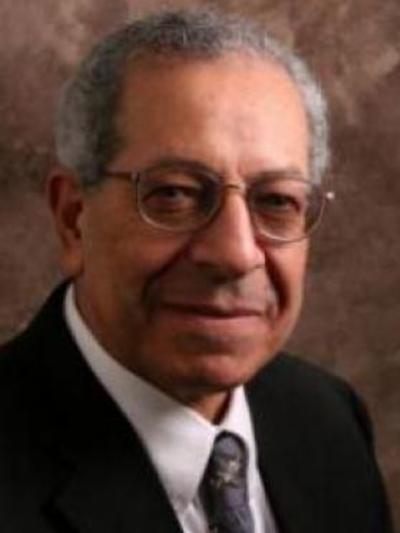 Ahmed Yousef
Distinguished Professor of Food, Agricultural, and Environmental Sciences
217 Parker

Areas of Expertise
Microbial safety of food
Foodborne pathogens
Preservation technologies
Mechanism of resistance
Education
Ph.D. University of Wisconsin, 1984
Faculty, University of Zagazig, Egypt, 1985
Postdoc, University of Wisconsin-Madison, 1986-1991
Research Interests
Microbial safety of food, with the main focus on the following areas:
Quest for antimicrobial peptides with promising applications in food
This line of research led to the discovery of novel antimicrobial peptides with potency against foodborne pathogens. The outcome of these studies includes dozens of publications and three patents.
Ozone application to improve the safety of fresh and minimally-processed food
This research includes developing an ozone-based technology to produce Salmonella-free shell eggs. The technology has been patented and is currently in the implementation phase. Similarly, ozone is being tested for decontaminating of fresh vegetables and fruits.
Revealing mechanisms of microbial lethality by emerging food preservation technologies
Technologies investigated include ultra-high pressure and pulsed electric fields. We are using DNA microarray methods to understand how these technologies inactivate pathogenic bacteria and how resistant pathogens respond to these treatments. This research is improving process efficacy, facilitating industrial implementation, and speeding regulatory approval of these new technologies.
---
Memberships
Member, CMIB 
Member, DHLRI 
Member, PHPID
---
Relevant Publications
Lado BH & Yousef AE (2002) Alternative food preservation technologies: Efficacy and mechanisms. Microbes Infect. 4:433-440.

Malone AS, Chung Y-K & Yousef AE. (2006) Genes of Escherichia coli O157:H7 that are involved in high pressure resistance. Appl Environ Microbiol. 77:2661-2671.

He Z, Kisla D, Zhang L, Yuan C, Green-Church KB & Yousef AE. (2007) Isolation and identification of a Paenibacillus polymyxa strain that co-produces a novel lantibiotic and polymyxin. Appl Environ Microbiol. 73:168-178.

He Z, Yuan C, Zhang L & Yousef AE. (2008) N-terminal acetylation in paenibacillin, a novel lantibiotic. FEBS Lett. 582:2787-2792.

Yousef AE. (2008) Detection of bacterial pathogens in different matrices: current practices and challenges, p. 31-48. In M. Zourob, S. Elwary, and A. Turner (eds.), Principles of bacterial detection- biosensors, recognition receptors and microsystems. Springer, New York, NY.

Guo Y, Huang E, Yuan C, Zhang L & Yousef AE. (2012) Isolation of a strain of Paenibacillus sp. and structural elucidation of its broad-spectrum lipopeptide antibiotic. Appl Environ Microbiol.78:3156-3165.

Huang E & Yousef AE. (2012) Draft genome sequence of Paenibacillus polymyxa OSY-DF that coproduces a lantibiotic, paenibacillin, and polymyxin E1. J Bacteriol. 194:4739-4740.

Huang E, Guo Y & Yousef AE. (2012) Draft genome sequence of Paenibacillus sp. OSY-SE, a bacterium produces a novel broad-spectrum lipopeptide antibiotic, Paenibacterin. J Bacteriol. 194:6306-6306.

Perry JJ & Yousef AE. (2012) Salmonella Enteritidis in shell eggs: Evolving concerns and innovative control measures, p 239-269. In S. Sariaslani and G.M. Gadd (eds.) Advances in applied microbiology, Vol. 81. Elsevier, Boston, MA.

Perry JJ & Yousef AE. (2013) Factors affecting thermal resistance of Salmonella enterica serovar Enteritidis ODA 99-30581-13 in shell egg contents and use of heat plus ozone combinations for egg pasteurization. J Food Prot. 76:213-219.

Huang E & Yousef AE. (2014) Paenibacterin, a novel broad-spectrum lipopeptide antibiotic, neutralises endotoxins and promotes survival in a murine model of Pseudomonas aeruginosa-induced sepsis. Int J Antimicrob Ag. 44:74-77

Huang E, Guo Y & Yousef AE. (2014) Biosynthesis of the new broad-spectrum lipopeptide antibiotic paenibacterin in Paenibacillus thiaminolyticus OSY-SE. Res Microbiol. 165:243-251.

Snyder AB, Perry JJ & Yousef AE. (2016) Developing and optimizing bacteriophage treatment to control enterohemorrhagic Escherichia coli on fresh produce. Int J Food Microbiol. 236:90-97.

Yang X, Huang E, Yuan C, Zhang L & Yousef AE. (2016) Isolation and structural elucidation of brevibacillin, an antimicrobial lipopeptide from Brevibacillus laterosporus combating drug-resistant Gram-positive bacteria. Appl Environ Microbiol. 82:2763-2772.

Huang E, Yang X, Zhang L, Moon SH & Yousef AE. (2017) New Paenibacillus strain produces a family of linear and cyclic antimicrobial lipopeptides: Cyclization is not essential for their antimicrobial activity. FEMS Microbiol Lett. 364 (https://doi.org/10.1093/femsle/fnx049)