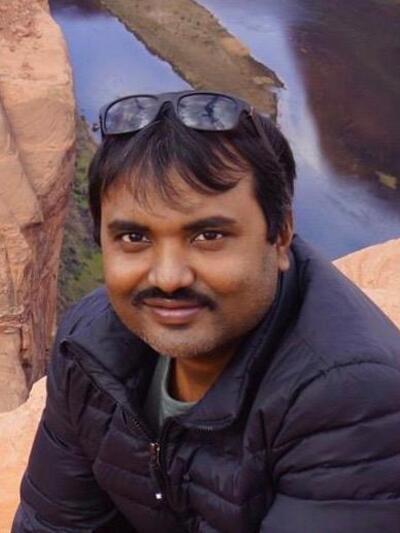 Bappaditya Roy
Postdoctoral Scholar
Room 296, Aronoff Laboratory
318 W 12th Ave, Columbus, OH 43210
Areas of Expertise
Molecular mechanisms of protein biosynthesis in bacteria
Ribosome structure and function
Education
B.S. in Microbiology, University of Calcutta, India, 2003
M.S. in Biotechnology, Utkal University, India, 2005
Ph.D., University of Calcutta, India, 2013
Selected Publications
Baez WD*, Roy B*, McNutt ZA, Shatoff EA, Chen S, Bundschuh R, Fredrick K. 2019. Global analysis of protein synthesis in Flavobacterium johnsoniae reveals the use of Kozak-like sequences in diverse bacteria. Nucleic Acids Res. 47: 10477-10488. (*Joint first authors)
Roy B, Liu Q, Shoji S, Fredrick K. 2018. IF2 and unique features of initiator tRNAfMet help establish the translational reading frame. RNA Biol. 15: 604-613.
Vo MN, Terrey M, Lee JW, Roy B, Moresco J, Sun Litao, Fu H, Liu Q, Weber TG, Yates III JR, Fredrick K, Schimmel P, Ackerman S. 2018. ANKRD16 prevents neuron loss caused by an editing-defective tRNA synthetase. Nature. 557: 510-515.
Ray S, Blaise M, Roy B, Ghosh S, Kern D, Banerjee R. 2014. Fusion with anticodon binding domain of GluRS is not sufficient to alter the substrate specificity of a chimeric Glu-Q-RS. Protein J. 33(1): 48-60.
Blaise M, Olieric V, Sauter C, Lorber B, Roy B, Karmakar S, Banerjee R, Becker HD, Kern D. 2008. Crystal structure of glutamyl-queuosine tRNAAsp synthetase complexed with L-glutamate: structural elements mediating tRNA-independent activation of glutamate and glutamylation of tRNAAsp anticodon. J Mol Biol. 381(5): 1224-1237.
Ataide SF, Wilson SN, Dang S, Rogers TE, Roy B, Banerjee R, Henkin TM, Ibba M. 2007. Mechanisms of resistance to an amino acid antibiotic that targets translation. ACS Chemical Biology. 2: 819-827.