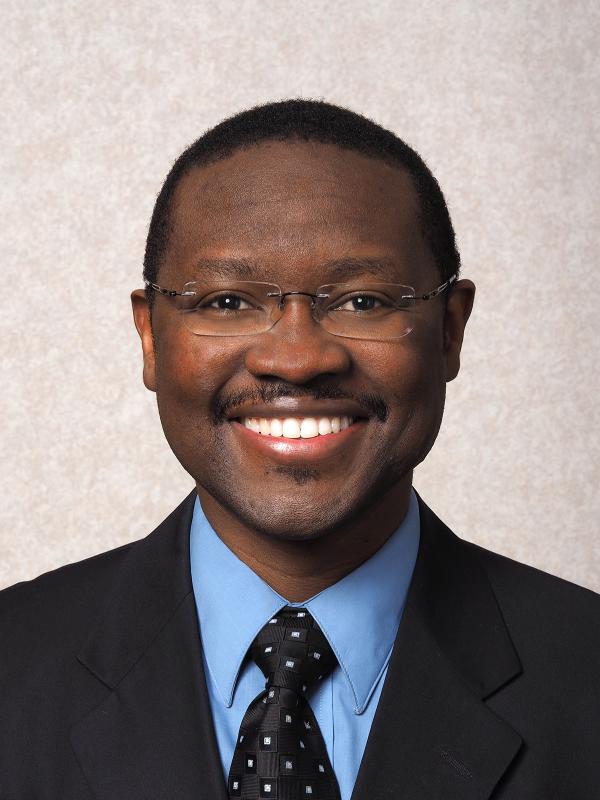 Steve Oghumu
Assistant Professor
Evans Hall
203A Evans Hall
520 King Ave
Columbus, OH 43201
Areas of Expertise
Immuno-oncology
Head and Neck carcinogenesis and cancer chemoprevention
X chromosome inactivation and sex differences in neurologic disorders
Education
Ph.D. Microbiology, The Ohio State University, Columbus, OH
Postdoc, College of Dentistry, The Ohio State University, Columbus, OH
Research Interests
Dr. Oghumu's research program is aimed at understanding the genetic and immunological factors underlying the etiology and pathogenesis of human disease. His research is focused on two primary disease areas: (i) oral carcinogenesis and (ii) substance use disorder. Using innovative mouse models, he is investigating the cellular, molecular and immunological mechanisms of oral carcinogenesis and advancing the development and application of compounds for oral cancer chemoprevention and treatment. He is also developing and applying uniquely novel mouse models to determine the contribution of X-chromosome inactivation to sex differences in susceptibility to neoplastic and neurologic disorders.
Oral carcinogenesis and chemoprevention: A major component of our research program is focused on understanding the cellular and molecular mechanisms of oral carcinogenesis and oral cancer chemoprevention. We are developing a number of preclinical models that will enable us to fully explore the underlying mechanisms of oral cancer inhibition by dietary phytochemicals and other immunomodulatory compounds. Of particular interest to our research are the bioactive phytochemicals that are found in black raspberries. Our long term goal is to identify discrete significant mediators of oral carcinogenesis that can be exploited in preventive and/or therapeutic strategies to reduce the risk of oral cancer development.
Sex differences in substance use disorder: Dr Oghumu's laboratory studies X-chromosome inactivation (XCI) and its contribution to sex differences in susceptibility to disease. XCI is an epigenetic mechanism in females where one X chromosome is randomly chosen to be transcriptionally silenced, which serves to equalize gene dosage between male and female sexes. However, some X linked genes escape XCI, resulting in biallelic expression in females. Our research has shown that escape from XCI plays a major role in sex differences in susceptibility to infectious and autoimmune disease. We are extending these studies to determine how this epigenetic mechanism affects sex differences to neurologic and neoplastic diseases. Our recently funded NIH grant focuses on the contribution of XCI to sex differences in substance use disorder. We have developed uniquely innovative mouse models and molecular approaches to study XCI. These include single cell RNA sequencing, CRISPR technology, bicistronic reporter mouse models, cell and molecular based assays. Long term, these innovative tools will be applied to study the underlying epigenetic mechanism of sex differences in other disease models. Exciting research projects in this area are available to graduate students.
Recent Publications:
Fatima N, Sheikh N, Satoskar AR, Akhtar T, Tayyeb A, Ashfaq I, Ryan N, Ambreen S, Jha BK, Oghumu S*. Effect of Short-Term Tacrolimus Exposure on Rat Liver: An Insight into Serum Antioxidant Status, Liver Lipid Peroxidation, and Inflammation. Mediators Inflamm. 2021; 2021:6613786. doi: 10.1155/2021/6613786. eCollection 2021. PubMed PMID: 33679236; PubMed Central PMCID: PMC7929660.
Anderson K, Ryan N, Alkhimovitch A, Siddiqui A, Oghumu S*. Inhibition of PI3K Isoform p110γ Increases Both Anti-Tumor and Immunosuppressive Responses to Aggressive Murine Head and Neck Squamous Cell Carcinoma with Low Immunogenicity. Cancers (Basel). 2021 Feb 25;13(5). doi: 10.3390/cancers13050953. PubMed PMID: 33668795; PubMed Central PMCID: PMC7956466.
Anderson K, Ryan N, Siddiqui A, Pero T, Volpedo G, Cooperstone JL, Oghumu S*. Black Raspberries and Protocatechuic Acid Mitigate DNFB-Induced Contact Hypersensitivity by Down-Regulating Dendritic Cell Activation and Inhibiting Mediators of Effector Responses. Nutrients. 2020 Jun 6;12(6). doi: 10.3390/nu12061701. PubMed PMID: 32517233; PubMed Central PMCID: PMC7352349.
Ryan N, Anderson K, Volpedo G, Varikuti S, Satoskar M, Satoskar S, Oghumu S*. The IL-33/ST2 Axis in Immune Responses Against Parasitic Disease: Potential Therapeutic Applications. Front Cell Infect Microbiol. 2020;10:153. doi: 10.3389/fcimb.2020.00153. eCollection 2020. Review. PubMed PMID: 32363166; PubMed Central PMCID: PMC7180392
Varikuti S, Singh B, Volpedo G, Ahirwar DK, Jha BK, Saljoughian N, Viana AG, Verma C, Hamza O, Halsey G, Holcomb EA, Maryala RJ, Oghumu S, Ganju RK, Satoskar AR. Ibrutinib treatment inhibits breast cancer progression and metastasis by inducing conversion of myeloid-derived suppressor cells to dendritic cells. Br J Cancer. 2020 Feb 6. doi: 10.1038/s41416-020-0743-8. [Epub ahead of print] PMID: 3202502
Anderson K, Ryan N, Volpedo G, Varikuti S, Satoskar AR, Oghumu S*. Immune Suppression Mediated by STAT4 Deficiency Promotes Lymphatic Metastasis in HNSCC. Front Immunol. 2020 Jan 15;10:3095. doi: 10.3389/fimmu.2019.03095. eCollection 2019. PMID: 32010142
Ryan N, Anderson K, Volpedo G, Hamza O, Varikuti S, Satoskar AR, Oghumu S*. STAT1 inhibits T cell exhaustion and myeloid derived suppressor cell accumulation to promote anti-tumor immune responses in head and neck squamous cell carcinoma. Int J Cancer. 2019 Nov 10. doi: 10.1002/ijc.32781. [Epub ahead of print] PMID:31709529
Knobloch TJ, Peng J, Hade EM, Cohn DE, Ruffin MT 4th, Schiano MA, Calhoun BC, McBee WC Jr, Lesnock JL, Gallion HH, Pollock J, Lu B, Oghumu S, Zhang Z, Sears MT, Ogbemudia BE, Perrault JT, Weghorst LC, Strawser E, DeGraffinreid CR, Paskett ED, Weghorst CM. Inherited alterations of TGF beta signaling components in Appalachian cervical cancers. Cancer Causes Control. 2019 Oct;30(10):1087-1100. doi: 10.1007/s10552-019-01221-y. Epub 2019 Aug 21. PMID: 31435875
Knobloch TJ, Ryan NM, Bruschweiler-Li L, Wang C, Bernier MC, Somogyi A, Yan PS, Cooperstone JL, Mo X, Brüschweiler RP, Weghorst CM, Oghumu S*. Metabolic Regulation of Glycolysis and AMP Activated Protein Kinase Pathways during Black Raspberry-Mediated Oral Cancer Chemoprevention. Metabolites. 2019 Jul 11;9(7). pii: E140. doi: 10.3390/metabo9070140. PMID: 31336728
Oghumu S*, Varikuti S, Stock JC, Volpedo G, Saljoughian N, Terrazas CA, Satoskar AR. Cutting Edge: CXCR3 Escapes X Chromosome Inactivation in T Cells during Infection: Potential Implications for Sex Differences in Immune Responses. J Immunol. 2019 Aug 15;203(4):789-794. doi: 10.4049/jimmunol.1800931. Epub 2019 Jun 28. PMID: 31253729
Balatti V, Oghumu S*, Bottoni A, Maharry K, Cascione L, Fadda P, Parwani A, Croce C, Iwenofu OH.  MicroRNA profiling of salivary duct carcinoma versus Her2/Neu overexpressing breast carcinoma identify miR-10a as a putative breast related oncogene.  Head Neck Pathol. 2018 Sept 26 [Epub ahead of print]
Oghumu S*, Casto BC, Ahn-Jarvis J, Weghorst LC, Maloney J, Geuy P, Horvath KZ, Bollinger CE, Warner BM, Summersgill KF, Weghorst CM, Knobloch TJ.  Inhibition of pro-inflammatory and anti-apoptotic biomarkers during experimental oral cancer chemoprevention by dietary black raspberries. Front Immunol. 2017 Oct 23;8:1325. doi: 10.3389/fimmu.2017.01325
Varikuti S, Oghumu S*, Elbaz M, Volpedo G, Ahirwar DK, Alarcon PC, Sperling RH, Moretti E, Pioso MS, Kimble J, Nasser MW, Ganju RK, Terrazas C, Satoskar AR.  STAT1 gene deficient mice develop accelerated breast cancer growth and metastasis which is reduced by IL-17 blockade. Oncoimmunology. 2017 Aug 14;6(11):e1361088. doi: 10.1080/2162402X.2017.1361088
Oghumu S*, Varikuti S, Saljoughian N, Terrazas C, Huntsman AC, Parinandi NL, Fuchs JR, Kinghorn AD, Satoskar AR.  Pentalinonsterol, a constituent of Pentalinon andrieuxii, possesses potent immunomodulatory activity and primes T cell immune responses. J Nat Prod. 2017 Sep 22;80(9):2515-2523. doi: 10.1021/acs.jnatprod.7b00445.  PMID: 28876059