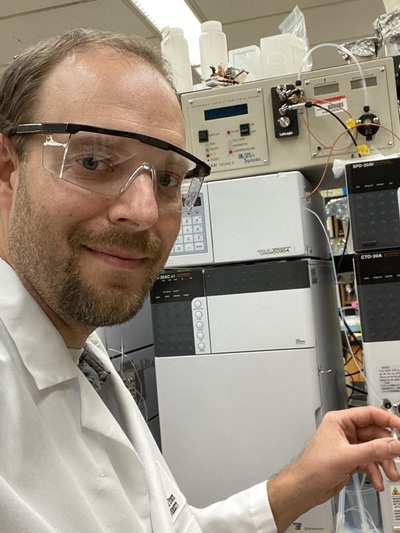 Justin North
Assistant Professor
Room 423, Biological Sciences Building
484 W 12th Ave,
Columbus, OH 43210

Areas of Expertise
Biophysics
Microbial metabolism
Bio-fuels and bio-products
Education
B.S. in Biology, Butler University, 2006
B.S. in Physics, Butler University, 2006
Ph.D, Ohio State University, 2012
Awards
Ruth L. Kirschstein NSRA Postdoctoral Fellow, 2014-2016
Heer Scholarship for Outstanding Research, Ohio State Univ. Department of Physics, 2012
Ohio State University Comprehensive Cancer Center Pelotonia Predoctoral Fellow, 2011-2012
American Heart Association Predoctoral Fellow, 2008-2010
Hazel Brown Award for Excellence in Teaching, Ohio State University, 2007
Selected Publications
North JA, Narrowe AB, Xiong W, Byerly KM, Zhao G, Young SJ, Murali S, Wildenthal JA, Cannon WR, Wrighton KC, Hettich RL, and Tabita FR. 2020 A nitrogenase-like enzyme system catalyzes methionine, ethylene, and methane biogenesis. Science. 369: 1094-1098
North JA, Wildenthal JA, Erb TJ, Evans BS, Byerly KM, Gerlt JA, Tabita FR. 2020 A bifunctional salvage pathway for two distinct S-adenosylmethionine by-products that is widespread in bacteria, including pathogenic Escherichia coli. Mol. Microbiol. 113: 923-937.
Satagopan S, North JA*, Arbing MA, Varaljay VA, Haines SN, Wildenthal JA, Byerly KM, Shin A, Tabita FR. 2019 Structural Perturbations of Rhodopseudomonas palustris Form II RuBisCO Mutant Enzymes That Affect CO2 Fixation. Biochemistry. 58: 3880-3892. *Co-first author.
North JA, Miller AR, Wildenthal JA, Young SJ, Tabita FR. 2017. Microbial pathway for anaerobic 5'-methylthioadenosine metabolism coupled to ethylene formation. Proc. Natl. Acad. Sci. U S A. 114: E10455-E10464.
North JA, Sriram J, Chourey K, Ecker CD, Sharma R, Wildenthal JA, Hettich RL, Tabita FR. 2016. Metabolic Regulation as a Consequence of Anaerobic 5-Methylthioadenosine Recycling in Rhodospirillum rubrum. mBio. 7: e00855-16.
Dey S, North JA*, Sriram J, Evans BS, Tabita FR. 2015. In Vivo Studies in Rhodospirillum rubrum Indicate that Ribulose-1,5,bisphosphate carboxylase/oxygenase (Rubisco) Catalyzes Two Obligatorily Required and Physiologically Significant Reactions for Distinct Carbon and Sulfur Metabolic Pathways. J. Biol. Chem. 290: 30658-68. *Co-first author.