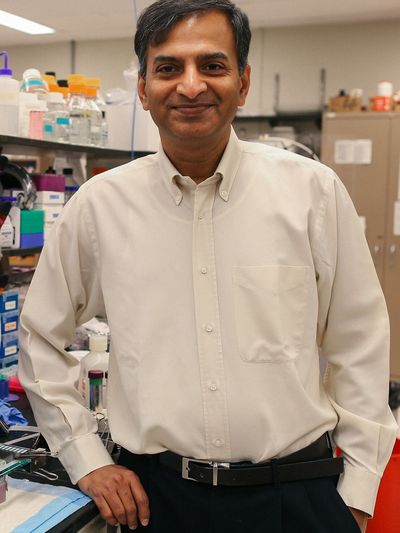 Venkat Gopalan
Professor of Chemistry & Biochemistry
774 Biological Sciences

Areas of Expertise
Protein-aided RNA Catalysis
Education
Ph.D. University of New Mexico
Postdoc, Yale University
Research Interests
Structure and mechanism of action of ribonuclease P, a catalytic ribonucleoprotein (RNP) complex. The endoribonuclease RNase P is a ubiquitous RNP that is involved in the maturation of tRNAs. In Escherichia coli, the RNase P holoenzyme consists of a catalytic RNA subunit (M1 RNA, 377 nts) and a protein cofactor (C5 protein, 119 amino acid residues). The long-term goal of our studies is to elucidate the mechanism of assembly of this unique catalytic RNP complex and thereby understand how an RNA-binding protein influences the structure and function of its RNA ligand. 2. Use of plant RNase P to inhibit gene expression Recently, it has been demonstrated that endogenous, cellular RNase P can be guided to specifically destroy a target mRNA in bacterial and human cells in tissue culture. Our aim is to determine if plant RNase P could be utilized to disrupt gene expression in plants and their pathogens. These studies will help establish plant RNase P as a valuable functional genomics tool. Towards this objective, we have recently made significant progress in partially purifying and characterizing plant RNase P.
---
Relevant Publications
Xu Y, Oruganti S, Gopalan V,  Foster MP. (2012) "Thermodynamics of coupled folding in the interaction of archaeal RNase P Proteins RPP21 and RPP29." Biochemistry (in press).
Chen WY, Singh D, Lai LB, Stiffler MA, Lai HD, Foster MP & Gopalan V. (2012) "Fidelity of tRNA 5'-maturation: a possible basis for the functional dependence of archaeal and eukaryal RNase P on multiple protein cofactors." Nucleic Acids Research (in press).
Lai LB, Bernal-Bayard P, Mohannath G, Lai SM, Gopalan V & Vioque A. (2011) "A functional RNase P protein subunit of bacterial origin in some eukaryotes." Mol. Genet. Genomics (in press).
Crowe BL, Bohlen CJ, Wilson RC, Gopalan V & Foster MP. (2011) "Assembly of the Complex between Archaeal RNase P Proteins RPP30 and Pop5." Archaea (in press).
Chen W-Y, Xu Y, Cho I-M, Oruganti S, Foster MP & Gopalan V. (2011) Cooperative RNP assembly: Complementary rescue of structural defects by protein and RNA subunits of archaeal RNase P. J. Mol. Biol. 411:368-83.
Han B, Gopalan V & Ezeji TC. (2011) "Acetone production in solventogenic Clostridium species: New insights from non-enzymatic decarboxylation of acetoacetate." Applied Microbiology and Biotechnology 91:565-76.
Cho I-M, Kazakov SA & Gopalan, V. (2011) "Evidence for recycling of external guide sequences during cleavage of bipartite substrates by in vitro reconstituted archaeal RNase" P. J. Mol. Biol. 405, 1121-1127.
Sinapah S, Wu S, Chen Y, Pettersson BMF, Gopalan V & Kirsebom LA. (2011) "Cleavage of model substrates by archaeal RNase P: role of protein cofactors in cleavage-site selection." Nucleic Acids Res. 39, 1105-1116.
Lai L B, Chan P, Cozen A, Bernick DL, Brown J, Gopalan V & Lowe T. (2010) "Discovery of a minmal form of RNase P in Pyrobaculum." Proc Natl Acad Sci USA 107, 22493-22498.