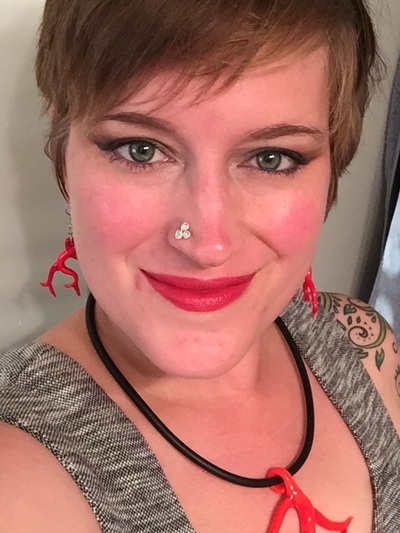 Audra Crouch
PhD Candidate
room 714 Riffe Building
496 W 12th Ave,
Columbus, OH 43210
Education
B.S. in Biomedical Science, University of Lynchburg, 2007
Term Joined: Autumn 2018
Publications
Barlow DE, Biffinger JC, Estrella L, Lu Q, Hung CS, Nadeau LJ, Crouch AL, Russell JN Jr, Crookes-Goodson WJ. 2020. Edge-localized biodeterioration and secondary microplastic formation by Papiliotrema laurentii unsaturated biofilm cells on polyurethane films.  Langmuir 36: 1596-1607.
Varaljay VA, Lyon WJ, Crouch AL, Drake CA, Hollomon JM, Nadeau LJ, Nunn HS, Stevenson BS, Bojanowski CL, Crookes-Goodson WJ. 2019. Draft genome sequence of filamentous fungus Phialemoniopsis curvata, isolated from diesel fuel. Microbiol Resour Announc. 8: e00400-19.
Hung CS , Barlow DE , Varaljay VA, Drake CA , Crouch AL , Russell Jr, JN, Crookes-Goodson WJ, Biffinger JC. 2019. The biodegradation of polyester and polyester polyurethane coatings using Papiliotrema laurentii. Int. Biodeterior. Biodegradation 139: 34-43
Hung CS, Zingarelli S., Nadeau LJ, Biffinger JC, Drake CA, Crouch AL, Barlow DE, Russell Jr JN, Crookes-Goodson WJ  2016. Carbon catabolite repression and impranil polyurethane degradation in Pseudomonas protegens strain Pf-5. Appl. Environ. Microbiol. 82:  6080-6090.
Yarza, P., 2013. Sequencing Orphan Species initiative (SOS): filling the gaps in the 16S rRNA gene sequence database for all species with validly published names.  Syst. Appl. Microbiol. 36: 69-73. 
Patel T, Crouch A, Dowless K, Freier D. 2008.  Acute effects of oral administration of a glycerol extract of Echinacea purpurea on peritoneal exudate cells in female swiss mice.  Brain Behav Immun 22: 39.