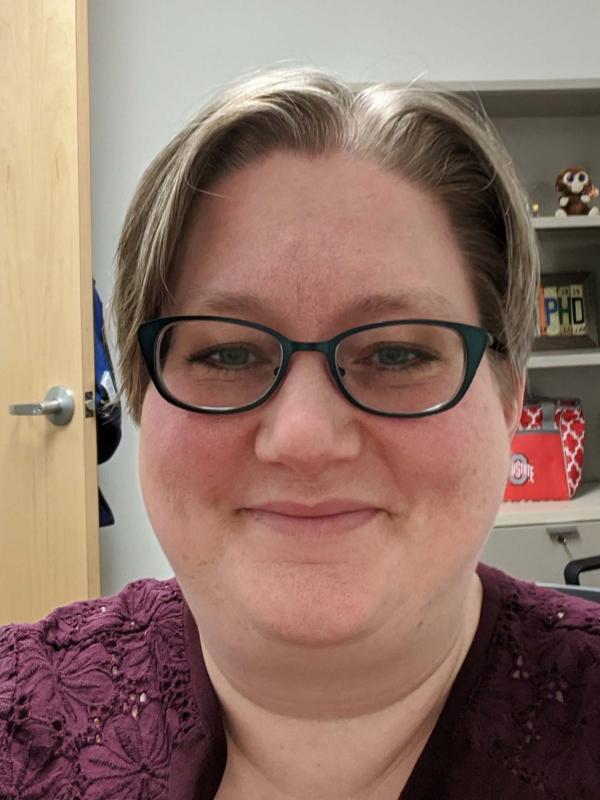 Jacqueline Corry
Research Scientist
Room 412, Biological Sciences Building
484 W 12th Ave,
Columbus, OH 43210

Research interests:
Virology
Maternal-fetal medicine
Immunology
Education:
Doctor of Philosophy

Biomedical Sciences, Emphasis in Virology

The Ohio State University, Columbus, OH

2011-2015

Bachelor of Arts

Biochemistry and Behavioral Neuroscience

Knox College, Galesburg, IL

1999-2003
Lab: Jesse Kwiek
Selected Publications:
Corry J; Kettenburg G; Upadhyay AA; Wonderlich ER; Bissel SJ; Goss K; Sturgeon TJ; Watkins SJ; Reed DS; Bosinger SE; Barratt-Boyes SM. Infiltration of inflammatory macrophages and neutrophils and widespread pyroptosis in lung drive influenza lethality in nonhuman primates. Plos Pathogens. 2022 Mar 10; 18 (3).
Corry J; Arora N; Good C; Sadovsky Y; Coyne CB. 2017. Organotypic models of type III interferon-mediated protection from Zika virus infections at the maternal-fetal interface. PNAS. 2017 Aug 7; 114 (35); 9433-9438.
Corry J; Johnson SM; Cornwell J; Peeples ME. Preventing Cleavage of the Respiratory Syncytial Virus Attachment Protein in Vero Cells Rescues the Infectivity of Progeny Virus for Primary Human Airway Cultures. Journal of Virology. 2015 Nov 18; 90 (3); 1311-1320.
Webster Marketon JI; Corry J; Teng, M. The respiratory syncytial virus (RSV) nonstructural proteins mediate RSV suppression of glucocorticoid receptor transactivation. Virology. 2014 Jan 20; 449: 62-9.
Burnsides C*; Corry J*; Alexander J; Balint C; Cosmar D; Phillips G; Webster Marketon JI. 2012. Ex vivo stimulation of whole blood as a means to determine glucocorticoid sensitivity.  Journal of Inflammation Research. Vol 5. 89-97. *[First authorship shared]
Hinzey A; Alexander J; Corry J; Adams KM; Claggett AM; Traylor ZP; Davis IC; Webster Marketon JI. 2011. Respiratory syncytial virus represses glucocorticoid receptor mediated gene activation.  Endocrinology. Vol. 152, no. 2: 483-494.
---
Google scholar: https://scholar.google.com/citations?user=0dMN57MAAAAJ&hl=en