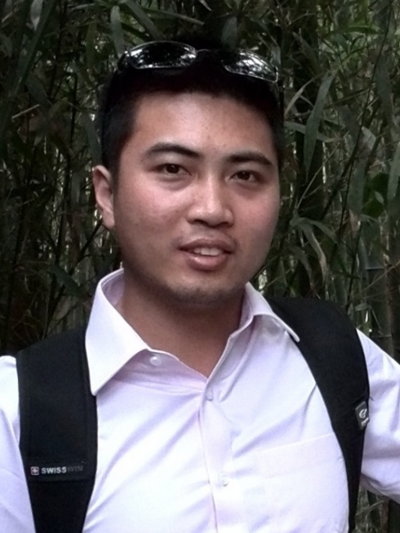 Zhiping Zhong
Post Doctoral Scholar- Byrd Polar and Climate Research Center
Room 944, Riffe Lab
496 W 12th Ave,
Columbus, OH 43210

Areas of Expertise
Environmental microbiology
Microbial ecology
Population genetics
Education
B.S. in Bioscience, Nanjing Agricultural University, China, 2011
Ph.D., Institute of Microbiology, Chinese Academy of Sciences, China, 2016
Awards
First Place Poster Award, Ohio Supercomputer Center User Group meeting, Columbus OH, 2019
The Byrd Postdoctoral Fellowship, Byrd Polar and Climate Research Center, OSU, 2016
Selected Publications
Zhong ZP, Rapp JZ, Wainaina JM, Solonenko NE, Maughan H, Carpenter SD, Cooper ZS, Jang HB, Bolduc B, Deming JW, Sullivan MB. 2020. Viral Ecogenomics of Arctic Cryopeg Brine and Sea Ice. mSystems. 5: e00246-20.
Zhong ZP, Solonenko NE, Gazitúa MC, Kenny DV, Mosley-Thompson E, Rich VI, Van Etten JL, Thompson LG, Sullivan MB. 2018. Clean low-biomass procedures and their application to ancient ice core microorganisms. Front Microbiol. 9: 1094.
Zhong ZP, Liu Y, Miao LL, Wang F, Chu LM, Wang JL, Liu ZP. 2016. Prokaryotic Community Structure Driven by Salinity and Ionic Concentrations in Plateau Lakes of the Tibetan Plateau. Appl Environ Microbiol 82: 1846-1858.
Zhong ZP, Liu Y, Liu HC, Wang F, Zhou YG, Liu ZP. 2015. Vibrio salilacus sp. nov., a new member of the Anguillarum clade with six alleles of the 16S rRNA gene from a saline lake. Int J Syst Evol Microbiol 65: 2653-2660.
Xu Y, Sun GD, Jin JH, Liu Y, Luo M, Zhong ZP, Liu ZP. 2014. Successful bioremediation of an aged and heavily contaminated soil using a microbial/plant combination strategy. J Hazard Mater 264: 430-438.