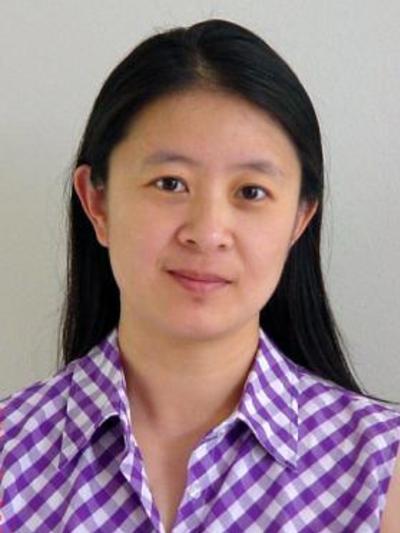 Hua Wang
Professor of Food Science and Technology
110 Parker

Areas of Expertise
Biofilm formation involving food-borne pathogenic
Education
Ph.D. University of Minnesota, 1998
Postdoc, NIH/NICHD, 1999
The main research interest in my laboratory is to systematically reveal key players and mechanisms involved in microbial persistence and resistance to environmental challenges for targeted controls. We conduct fundamental and applied studies at both the ecosystem and the microorganism levels, and have uncovered the potential roles of the food chain and commensal, including beneficial bacteria on horizontal gene transmission and antibiotic resistance (AR) dissemination, and successfully helped the industry achieved the goal of significant reduction of AR in fermented dairy products in just 4 years. Our recent discoveries revealed oral antibiotic administration as a key risk factor for the rapid emergence of antibiotic resistance in the global ecosystem and the need to change the route of antibiotic administration for resistance mitigation.
Rapid detection and microbial profiling
My laboratory has optimized nucleic acid amplification-based technologies such as real-time PCR and developed detection kits for semi-quantitative assessment of targeted microbes and genes from complex matrices including foods, with several application patents pending. We have also established several microbial profiling platforms for population and ecological studies. The application of these detection tools led to the discovery of the magnitude of AR in the food chain and hosts, and the key players in AR ecology.
Microbial biofilms
Using Listeria monocytogenes as the model organism, our group defined the first "honeycomb" biofilm structure, a mainstream biofilm architecture now being found in many other bacteria (Marsh et al, 2003). Using Lactococcus lactis as the model system, we have further illustrated the role of horizontal gene transmission (conjugation) in facilitating microbial biofilm ecosystem development in Gram-positive bacteria (Luo et al, 2005). We are currently investigating regulatory factor(s) and potential metabolic pathway(s) involved in biofilm development.
Antibiotic resistance in food and host microbial ecosystems
Using the clumping L. lactis model system, we have demonstrated that inherited high frequency gene transfer mechanism, previously known for facilitating the transmission of beneficial traits, can also enhance the transfer of the broad-host-range drug-resistance plasmid pAMβ1 approximately 10,000 times (Luo et al, 2005). This is the first illustration showing that commensals, including beneficial bacteria, may serve not only as reservoir but also as potential facilitator in AR gene dissemination. It led to the investigation of the prevalence of AR in commensal bacteria across microbial ecosystems including the food chain. Using novel methods distinct from the NARMS standard approach, we uncovered the prevalence (both magnitude and spectrum) of AR contamination across major food commodities, including raw food materials and ready-to-eat products. The AR genes from food isolates were transmitted to human residential and pathogenic bacteria in laboratory settings. Our data suggest that food likely served as a major avenue transmitting AR from the environment to humans, and its impact on AR development in the host has been investigated.  Our recent discoveries further revealed the critical rolesof host gastrointestinal tract and fecal microbiota in facilitating the spread of antibiotic resistance across hosts, food and the environment, and subsequently the broadly used oral antibiotic administration as a key risk factor for the rapid emergence of antibiotic resistance in the global ecosystem, and the need for changing antibiotic administration route and delivery for effective resistance mitigation. The findings potentially will have significant impact on clinical therapy, drug development and food animal production practices for effective resistance mitigation.
---
Memberships
---
Relevant Publications
Wassinger A, Zhang L, Tracy E, Munson RS, KathariouS, WangHH. (2013). Role of a GntR-family response regulator LbrA in Listeria monocytogenes biofilm formation. Plos One. In Press.

Zhang L, McEntire JC, Newsome RL, Wang HH. (2013). Antimicrobial resistance. In Food Microbiology: Fundamentals and Frontiers. (Doyle MP, Buchanan RL, eds). ASM Press. p19-44.

Wang HH, McEntire JC, Zhang L, Li XJ, Doyle M. (2012). The transfer of antibiotic resistance from food to humans: facts, implications and future directions. Rev. Sci. Tech. 31:249-260.

Xiao L, Zhang L, Wang HH. (2012). Critical issues in detecting viable Listeria monocytogenes cells by real-time reverse transcriptase PCR. J Food Protect. 75 (3): 512-517.

Li X, Alvarez V, Harper JW, Wang HH. (2011). Persistent, Toxin-Antitoxin System-Independent, Tetracycline Resistance-Encoding Plasmid from a Dairy Enterococcus faecium Isolate. Appl Environ Microbiol . 77(20): 7096-7103.

Li X, Li Y, Alvarez V, Harper WJ, Wang HH. (2011). Effective Antibiotic Resistance Mitigation during Cheese Fermentation. Appl Environ Microbiol. 77 (20): 7171-7175.

Zhang L, Kinkelaar D, Huang Y, Li Y, Li X, Wang HH. (2011). Acquired Antibiotic Resistance: Are We Born with It? Appl Environ Microbiol. 77(20): 7134-7141.

Bi SL, Yan H, Chen M, Zhang Z, Shi L, Wang H. (2011). New variant Salmonella genomic island 1-U in Proteus mirabilis clinical and food isolates from South China. J Antimicrob Chemother. 66(5): 1178-1179.

Wang HH, Schaffner DW. (2011). Antibiotic resistance and mitigation: how much do we know and where should we go from here? Appl. Environ. Microbiol. 77(20): 7053-7059.

Li XJ, Wang HH. (2010) Profiles of antibiotic resistant commensal bacteria from representative ready-to-consume deli and restaurant foods. J Food Prot. In press.
Wang HH. (2010) Methodologies for genetic study and modification of bacteria: gram-positive bacteria. In Encyclopedia of Biotechnology in Agriculture and Food (Bridges A, Hoover DG, Wheeler MB, eds). Marcel Dekker, in press.
Jaykus L, Wang HH, Schlesinger L. (eds) (2009) Foodborne Microbes: Shaping the Host Ecosystems. ASM Press.
Wang HH. (2009) Commensal bacteria, microbial ecosystems and horizontal gene transmission: adjusting our focus for strategic breakthroughs against antibiotic resistance. In Foodborne Microbes: Shaping the Host Ecosystems (Jaykus L, Wang HH, Schlesinger L., eds). p. 267-81. ASM Press.
Manuzon MY, Hanna SE, Luo H, Harper WJ, Wang HH. (2007) Development of a real-time PCR method to quantify antibiotic resistance gene pool in retail dairy products. Appl Environ Microbiol. 73, 1676-7.