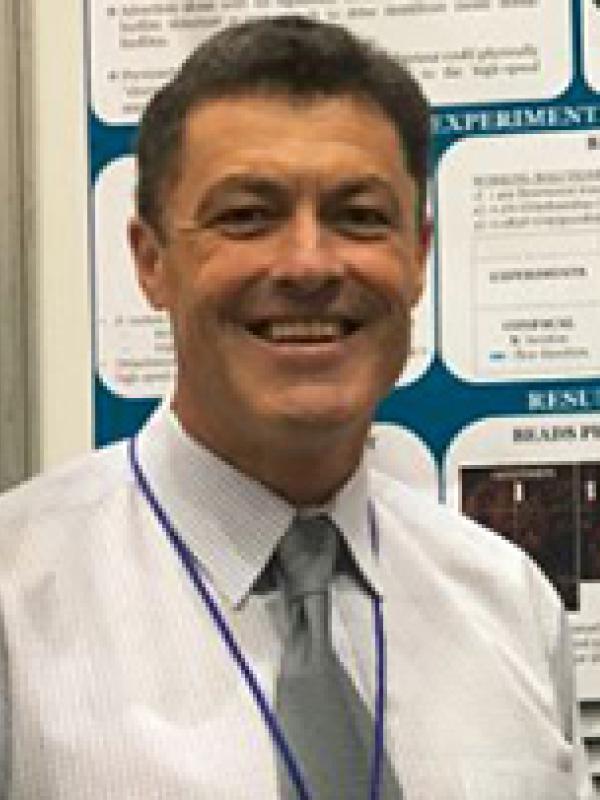 Paul Stoodley
Professor of Microbial Infection & Immunity and Director, Campus Microscopy and Imaging Facility
716 Biomedical Research Tower

Research Interests
Dr. Stoodley's lab has shown that surgical site infection from bacterial biofilms is a major complication associated with all medical devices including orthopaedic implants, catheters, and sutures and meshes. Dr. Stoodley's lab has also shown that dental plaque biofilms are a leading cause of caries, gingivitis and periodontitis. Biofilms also grow on industrial surfaces such as ship hulls and pipelines, where they increase drag, cause corrosion and can contaminate product. If bacteria are allowed to contact with surfaces biofilms are extremely difficult to prevent and treat and remain a major healthcare and industrial challenge. The research goal of the Stoodley lab is to identify key processes involved in biofilm development and persistence on the lab bench and in clinical and industrial settings, with the applied aim of improved prevention, diagnostic and treatment strategies. The Stoodley lab takes a broad multidisciplinary approach drawn from clinical medicine, engineering and basic microbiology, to focus on 6 main thrust areas:
Influence of genetic and environmental factors on biofilm development and dynamic behavior.
Mechanical strength of biofilms and removal strategies.
Diagnosis of biofilm infections in orthopaedic and general surgery.
Control of dental biofilms.
Biofilm monitoring in medicine, industry and natural environments.
Development of antibiofilm materials and coatings.
Paul Stoodley's Curriculum Vitae
---
Publications
PS190. Howlin, R., Winnard, C., Frapwell, C., Cooper, J., Aiken, S., Stoodley, P. 2016. Biofilm prevention of gram-negative bacterial pathogens involved in periprosthetic infection by antibiotic-loaded calcium sulfate beads in vitro. Biomedical Materials. Dec 2;12(1):015002. IF = 3.361.
PS189. Dusane, D., Diamond, S., Knecht, C., Farrar, N., Peters, C., Howlin, R., Swearingen, M., Calhoun, J., Plaut, R.D., Nocera, T., Granger, J., Stoodley, P. 2016. Effects of Loading Concentration, Blood and Synovial Fluid on Antibiotic Release and Anti-Biofilm Activity of Bone Cement Beads. Journal of Controlled Release. IF = 7.705. Revision. 8/22/16.
PS188. Stoodley, P. 2016. Evidence for a Biofilm Based Treatment Strategy in the Management of Chronic Hidradenitis Suppurativa. British Journal of Dermatology. IF = 4.275. Accepted 10/3/16.
PS187. Malone, M, Goeres, D.M., Gosbell, I., Vickery, K., Jensen, S., Stoodley, P. 2016. Approaches to biofilm-associated infections: The need for standardized biofilm methods for medically relevant clinical applications. Expert Review of Anti-infective Therapy. Accepted 11/16/16. IF = 3.461.
PS186. Malone, M., Bjarnsholt, T., McBain, A.J., James, G.A., Stoodley, P., Leaper, D., Tachi M.M., Shultz, G., Swanson, T., Wolcott, R.D. 2016. The prevalence of biofilms in chronic wounds: A systematic review and meta-analysis of published data. Journal of Wound Care. 25(12),000-000. IF2016=1.205. Accepted 11/2/16.
PS185. Howlin R.P, Winnard C, Angus E.M, Frapwell C.J, Webb, J., Cooper J.J, Aiken S, Bishop, J., Stoodley P. 2016. Propionibacterium acnes biofilm formation and prevention in prosthetic infections. Journal of Shoulder and Elbow Surgery. JSES-D-16-00395R1. IF = 2.412. Accepted 9/28/16.
PS184. Swearingen, M.C., DiBartola, A.C., Dusane, D., Granger, J., Stoodley, P. 2016. 16S rRNA analysis provides evidence of biofilms on all components of three infected periprosthetic knees including permanent braided suture. Pathogens and Disease. 74(7). pii: ftw083. IF = 2.483. doi: 10.1093/femspd/ftw083
PS183. Fabbri, S., Johnston, D.A., Rmaile, A., Gottenbos, B., De Jager, M., Aspiras, M., Starke, E.M., Ward M.T., Stoodley, P. 2016. High-velocity microsprays enhance antimicrobial activity in S. mutans biofilms. Journal of Dental Research. IF = 4.602. DOI: 10.1177/0022034516662813
PS182. Niehaus W.L., Howlin R.P., Johnston D.A, Bull D, Jones G.L., Calton, E, Mavrogordato M.N, Clarke S.C., Thurner P.J., Faust S.N. and Stoodley P. 2016. Development of X-ray micro-focus computer tomography to image and quantify biofilms in central venous catheter models in vitro. Microbiology. 162(9):1629-1640. IF = 2.957.
PS181. Fabbri, S., Stoodley, P. 2016. Mechanical properties of biofilms. In. "The Perfect Slime: Microbial Extracellular Polymeric Substances (EPS)', Flemming, H.C., Neu, T.R., Wingender, J. (eds). IWA Publishing, London, UK. Publication Date: 08/015/2016. ISBN13: 9781780407418.
PS180. Cogan, N., Harro, J.M., Stoodley, P., Shirtliff, M.E. 2016. Commentary: Predictive computer models for biofilm detachment properties in Pseudomonas aeruginosa. 14;7(3). pii: e00815-16. doi: 10.1128/mBio.00815-16. IF=6.786.
---
[pdf] - Some links on this page are to Adobe .pdf files requiring the use of Adobe Reader. If you need these files in a more accessible format, please contact stoodley.4@osu.edu