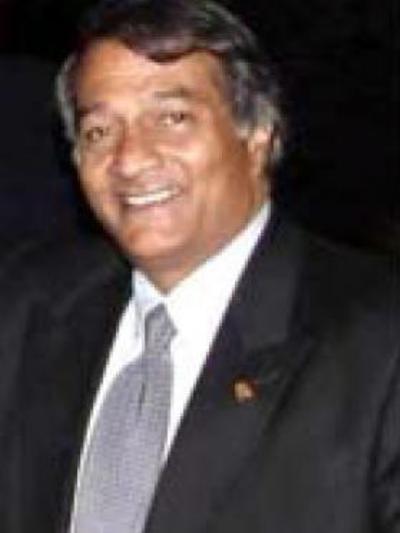 Pravin Kaumaya
Director, Ob/Gyn Div. Vaccine Research
316 Tzagournis

Areas of Expertise
Peptide and protein design
Antigenic and immunogenic determinants
Peptide & protein folding
Education
B.S. (Honors) University of Central London, UK
Ph.D. University of Portsmouth, Hants, UK
Research Interests
The Kaumaya laboratory investigates how patients' immune systems can be directed to recognize and kill their own cancer cells.  Novel treatments that combine both prophylactic and immunotherapeutic approaches as well as integrating preclinical and clinical research for the benefits of the cancer patients have been developed. The vaccine targets breast, ovarian, lung, pancreatic and colon cancers. Our immune intervention strategies are based on the hypothesis that the design of unique peptides which can recapitulate the exquisite 3-dimensional structure of the tumor antigen and when combined with a "promiscuous" T cell activating species generate vaccine candidates. Our Translational Research uses state-of-the-art multidisciplinary peptide/protein structural biochemistry coupled with innovative immunological/angiogenic/vaccines technologies.
Chimeric and Multivalent HER-2 Cancer Vaccine Strategies
Our strategy is based on the oncogene "human Epidermal Growth Factor-2 (HER-2/neu)" which showed encouraging results in several transgenic mouse models. We have translated this new treatment to the clinic by completing successfully a first man/woman NCI funded and FDA approved Phase 1 Trial in Cancer Patients (Stage 4) with solid tumors in several indications (Breast, Ovarian, GIST) at the OSU James Cancer Hospital. The vaccine was well tolerated, with little or no toxicity, and with several patients receiving boosters and showing stable disease. This vaccine can be used to conduct Phase II and III trials in 4 indications (Breast, Ovarian, Lung, Pancreatic and Colon). The vaccine is designed to have the patient's elicit highly efficacious antibodies and generation of immunologic memory that can delay, prevent and/or eradicate tumor growth and metastasis.
---
Relevant Publications
Vicari D, Rawale S, Liotta E & Kaumaya PTP. (2010) Engineered Conformation-dependent VEGF mimic peptides are effective in inhibiting VEGF signaling pathways. Oncotarget. in press.
Chen J, Chen CL., Rawale S, Chen CA, Zweier JL, Kaumaya PTP & Chen YR. (2010) Peptide-based antibodies against glutathione-binding domains suppress superoxide production mediated by mitochondrial complex I. J Biol Chem. 285, 3168-80.
Kaumaya PTP, Foy KC, Vicari D. et al. (2009) Phase I active immunotherapy with combination of two chimeric, human epidermal growth factor receptor 2, B-Cell epitopes fused to a promiscuous T-Cell epitope in patients with metastatic and/or recurrent solid tumors. J Clin Oncol. 27, 5270-7.
Ariza ME, Glaser R, Kaumaya PT, Jones C, Williams MV. (2009) The EBV-encoded dUTPase activates NF-kappa B through the TLR2 and MyD88-dependent signaling pathway. J Immunol. 182, 851-9.
Chen CL, Chen J, Rawale S, Varadharaj S, Kaumaya PTP, Zweier JL, & Chen YR. (2008). Protein tyrosine nitration of flavin subunit is associated with oxidative modification of mitochondrial complex II in the post-ischemic myocardium. J Biol Chem.  283, 27991-8003.
Garrett JT, Rawale S, Allen SD, Phillips G, Forni G, Morris JC & Kaumaya PTP. (2007) Novel engineered trastuzumab conformational epitopes demonstrate in vitro and in vivo antitumor properties against HER-2/neu. J Immunol. 178, 7120-31.
Allen SD, Garrett JT, Rawale SV, Jones AL, Phillips G, Forni G, Morris JC, Oshima RG & Kaumaya PTP. (2007) Peptide vaccines of the HER-2/neu dimerization loop are effective in inhibiting mammary tumor growth in vivo. J Immunol. 179, 472-82.
Kaumaya PTP. (2006) Her-2/neu cancer vaccines: present status and future prospects. Int J Pept Res Ther. 12, 65-77.
Dakappagari NK, Lute KD, Rawale S, Steele JT, Allen SD, Phillips G, Reilly RT & Kaumaya PTP. (2005) Conformational HER-2/neu B-cell epitope peptide vaccine designed  to incorporate two native disulfide bonds enhances tumor cell binding and antitumor activities. J Biol Chem. 280, 54-63.
Sundaram R, Lynch MP, Rawale SV, Sun Y, Kazanji M & Kaumaya PTP. (2004) De novo design of peptide immunogens that mimic the coiled coil region of human T-cell leukemia virus type-1 glycoprotein 21 transmembrane subunit for induction of native protein reactive neutralizing antibodies. J Biol Chem. 279, 24141-51.
Dakappagari NK, Parihar R, Pyles J, Carson W.E. & Kaumaya PTP. (2003) A chimeric multi HER-2 B cell epitope peptide vaccine mediates superior anti-tumor responses. J Immunol. 170, 4242-53.
Dakappagari NK, Douglas DB, Triozzi, L, Stevens VC & Kaumaya PTP. (2000) Prevention of mammary tumors with a chimeric HER-2 B-cell epitope peptide vaccine. Cancer Res. 60, 3782-9.